Technology
Forte Manufacturing Process
Forte manufactures carbon fiber tubing. Whether its sailboat masts or military communications towers, we specialize in straight, hollow, carbon fiber structures.
A composite tube is a more complex structure than you may realize. Unlike metals, composite structures are not isotropic – this means that they do not have the same material property in all directions. In fact, a composite tube needs to be engineered and built for specific applications. For example a torsion tube would need to be built to a different set of parameters than a tube under compression. The direction of the fibers within the laminate need to be oriented to handle these different load scenarios. Different manufacturing processes lend themselves to different applications and different loading scenarios. At Forte we manufacture carbon fiber tubing using two different processes:
4-Axis Continuous Fiber Braiding
4-Axis braiding is a process in which we braid carbon fibers over a mandrel. The braiding machine stays in one place and an aluminum mandrel traverses inside of the braiding hoop. The layer of braid is then wet-out with epoxy resin at a 2nd stage in the machine. The laminate is then consolidated and cured at 280F.
Braided composite structures offer extreme durability and toughness due to the interlocking fibers and no seams.
If damage does occur, it does not tend to propagate within the structure.
Typical braided carbon tubes have approximately 75% of fibers directly on the axis of the tube. These fibers are continuous fibers from one end of the part to the other. 10 % of the fibers are +/- 45 deg and around 15% are 90 deg (hoop)
We have the ability to make some adjustments to the percentages of fiber orientation; however, it is not possible to get high percentages of +/- 45 deg.
The inherent high percentage of fiber on the 0 axis makes a braided tube a very good compression or bending tube.

Because the machine stays in one place and the mandrel traverses, there is no length limitation to the parts that can be built (the building length, oven length and mandrel lengths are limiting factors, but the process itself in not limited).
We typically braid longer length parts or larger manufacturing runs compared to pre-preg
Braided carbon fiber tubes tend to have more surface ripples and small voids in the laminate. This is not a structural issue but it can be a cosmetic issue and it may have an effect on the OD tolerance of the part
Examples of some applications for braided tubing: Communications towers, large antenna assemblies, portable antennas, drone wing spars, aircraft structural tubing, sailboat spars, truss tubing, reinforcing tubes, spacer tubes, stiffening tubes, compression struts, GPS towers, high tension cable struts, awning support tubes, structural beams, low interference towers.
Roll wrapped pre-preg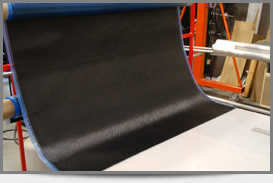 Pre-preg is a great material, which consists of fibers or woven cloth pre-impregnated with epoxy resin in a semi-cured state. It amounts to rolls of sticky cloth-like material that can be rolled over a mandrel or placed in a mold. There are many different types, sizes and orientations of fiber available, allowing for endless combinations of mixing and matching material to make up a laminate. The pre-preg is then consolidated and cured at high temperature and yields a very precise fiber resin ratio.
Better for complex tubing shapes such as a triangle. The pre-preg allow us to hold better wall consistency (not perfect, but better)
We use pre-preg for shorter length parts and short runs of parts.
Pre-preg has a little better wall consistency and laminate consistency than the braiding process.

We use pre-preg for torsion tubing or pressure vessels because we can get the proper off-axis fiber orientation required.
0/90 pre-preg cloth has that "carbon look" most people associate with carbon fiber.
Examples of some applications for roll wrapped pre-preg: printing rollers, belt rollers, pressure vessels, optical equipment housings, measurement devise housing, military rifle forearms and hand guards, torsion tubing, down hole components, logging tool mandrels, isolation joints, small antenna assemblies, drone fuselage.