Masts & Booms
Our Heart and Soul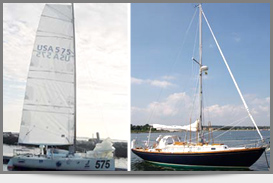 Forte was founded with a love for sailing and the products that make sailing more enjoyable. From carbon fiber masts and spinnaker poles to custom mega yacht battens… We are sailors, and our goal is to build the best sailing products possible!
We specialize in boats up to about 50', from custom offshore racing to classic daysailers.
Forte masts and booms are manufactured using 4-Axis Continuous Fiber Braided Technology originally developed for military applications requiring "super durability"; i.e., the ability to withstand bullet shots and to resist spread of damage. Forte also uses proprietary process control computers to strategically place and braid each carbon fiber strand directly onto a precisely engineered mandrel. The finished mast is then consolidated and cured at high temperature.
Forte carbon fiber masts are engineered to meet your exact requirements. Your mast can be built straight or tapered, to your specified weight or stiffness. Localized reinforcements (additional material) are laminated into the spar at areas of high stress and locations of any hardware or holes in the spar wall.
We build OEM masts for manufactures such as:
Classic Boat Shop
Jboats
Melges
Areys Pond

Norseboat
Holopuni Canoes
PS2000
Longtze
Check out a selection of our carbon mast sections and our mast section selection chart:

Spars can be ordered as a blank (bare carbon tubing) or a fully finished and painted mast.
Why Buy A Forte Carbon Fiber Mast?
Click to read more about each feature.
Save Weight Aloft
A Forte carbon fiber mast weighs about half that of an aluminum mast. Weight savings aloft translates into increased righting moment and increased pitching moment. In heavier winds, your boat will pitch less in chop. Increased righting moment means you can keep more sail up and/or sail with less crew under any heavier conditions.
Affordable
Yes a carbon mast can be affordable! Our automated manufacturing process allows us to manufacture carbon spars with less hands-on labor than other manufacturers. This means lower cost for you. Also, with some aluminum extrusions becoming scarce along with the labor to have the extrusion tapered…You may be surprised how affordable a Forte carbon spar can be.
Double Life Expectancy
Carbon fiber masts require less maintenance than aluminum masts; carbon fiber does not corrode, and paint flaking associated with aluminum masts does not occur. And, because softer (i.e., lower modulus) aluminum masts are subject to greater fatigue than carbon fiber masts, a Forte carbon fiber mast has at least double the life expectancy.
Transfer Power Efficiently
Power created by your sails is transferred by your mast to your hull. Softer aluminum masts lose some of this power because of bending, flexing and vibration. Due to greater strength and stiffness, a carbon fiber mast efficiently transfers the power from the wind into forward sailing momentum for greater speed.
Whether cruising or racing, you can expect your Forte carbon mast to improve your boat's sailing performance.